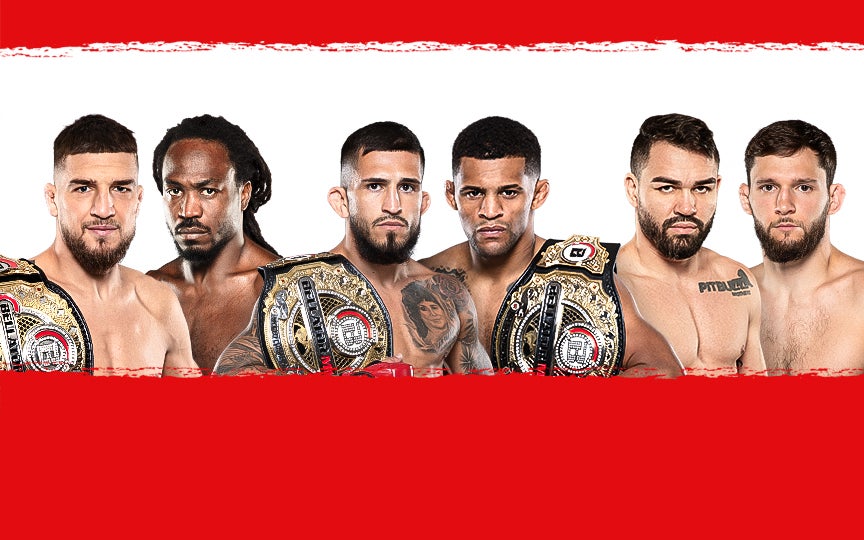 BELLATOR 301
2 Title Fights & World Grand Prix Semifinals
Date

Nov

17

, 2023

Event Starts

4:00 PM

Doors Open

3:30 PM

Ticket Prices

$50+

On Sale

On Sale Now
Event Details
Following the historic BELLATOR 300 mega-event in San Diego, BELLATOR will host its sixth and seventh title fights in a span of two months when the promotion returns to the Wintrust Arena in Chicago for yet another star-studded event on Friday, November 17. BELLATOR 301: Amosov vs. Jackson will air live on SHOWTIME beginning at 8 PM CT.
Headlining BELLATOR 301, undefeated welterweight kingpin Yaroslav Amosov (27-0) defends his title versus No. 2-ranked Jason Jackson (16-4) as the proud Ukrainian chases the longest undefeated streak in MMA history (29 held by Khabib Nurmagomedov). The second belt on the line as Bantamweight World Champion Sergio Pettis (23-5) seeks to unify his world title against 135-pound World Grand Prix tournament winner and interim champion Patchy Mix (18-1).
A high-stakes, five-round BELLATOR Lightweight World Grand Prix Semi-Final bout is set between former titlist Patricky Pitbull (25-11) and No. 2-ranked Alexander Shabliy (23-3). The victor will advance to face the winner of the Oct. 7 matchup between Lightweight World Champion Usman Nurmagomedov and Brent Primus at BELLATOR 300.
Every card needs a little animosity, and there will be no shortage of that when Raufeon Stots (19-2) and Danny Sabatello (14-3) renew their feud from 2022 in a rematch during the main card of BELLATOR 301.
Rounding out the BELLATOR 301: Amosov vs. Jackson main card, former featherweight world champion and homegrown star No. 6-ranked AJ McKee (20-1) returns to action when he meets Kill Cliff FC's No. 5-ranked Sidney Outlaw (17-5).
Live on SHOWTIME
9 PM ET / 8 PM CT / 6 PM PT
Welterweight World Title Bout: C-Yaroslav Amosov (27-0) vs. #2-Jason Jackson (16-4)
Bantamweight World Title Unification Main Event: C-Sergio Pettis (23-5) vs. IC-Patchy Mix (18-1)
Bantamweight Main Card Bout: #2-Raufeon Stots (19-2) vs. #6-Danny Sabatello (14-3)
Lightweight Main Card Bout: #6-AJ McKee (20-1) vs. #5-Sidney Outlaw (17-5)
Lightweight World Grand Prix Semi-Final: #1-Patricky Pitbull (25-11) vs. #2-Alexander Shabliy (23-3)
Welterweight World Championship Main Event
Yaroslav Amosov (C, 27-0) vs. Jason Jackson (#2, 16-4) – Welterweight World Championship Main Event
In his second appearance of 2023, undefeated BELLATOR Welterweight World Champion Yaroslav Amosov makes his return to the BELLATOR cage on the heels of an elite performance in front of the raucous Irish crowd at BELLATOR 291 this past February when he outclassed former interim welterweight champion Logan Storley for five rounds in a highly anticipated rematch and title unification bout. This bout marked his return to mixed martial arts since his heroic defense of his home country of Ukraine and in dominant fashion, Amosov proved to be the best in the world at 170-pounds despite the time away from the sport. Boasting a blistering record of 27-0, Amosov holds the record for the longest current MMA undefeated streak, and at BELLATOR 301 he will put his streak and world title on the line when he faces off against number one contender Jason Jackson.
Impressively stringing together six victories in a row, Jason Jackson has proven to be an undeniable challenger for the BELLATOR Welterweight World Title. The Kill Cliff FC trained star enters his first bout of 2023 on the strength of defeating former welterweight world champion Douglas Lima with his relentless wrestling prowess at BELLATOR 283. Sporting victories over the likes of MMA icons Paul Daley and Benson Henderson and submission specialist Neiman Gracie, Jackson believes he has the tools to dismantle the No. 3-ranked men's pound-for-pound great in Amosov in front of the electric Chicago crowd at BELLATOR 301.
Bantamweight World Championship Co-Main Event
Sergio Pettis (C, 23-5) vs. Patchy Mix (IC, 18-1) – Bantamweight World Championship Co-Main Event
Pettis, 29, returned from an over 18-month injury layoff this past June with a masterful title defense against the BELLATOR G.O.A.T., reigning Featherweight World Champion Patricio Pitbull, at BELLATOR 297 in Chicago. The No. 5-ranked pound-for-pound fighter silenced his detractors and reaffirmed his status as one of the best fighters in all of mixed martial arts with the victory, improving his record under the BELLATOR banner to a flawless 5-0. The Wisconsin native and Roufusport product showed no sign of ring rust in the five-round domination of Pitbull, outclassing the longtime great with technical superiority. Regrettably forced from the $1M Grand Prix due to injury, Pettis will return to the Wintrust Arena and look to send the Chicago crowd into a frenzy once again with a winning effort against Mix this November, live on SHOWTIME.
After winning the Interim Bantamweight Championship, the Bantamweight World Grand Prix, and the tournament's $1M grand prize, only one BELLATOR accolade remains absent from Patchy Mix's trophy case: the undisputed Bantamweight World Championship. At BELLATOR 301, Mix will go toe-to-toe with the Pettis in a fight for the ages sure to meet the Fight of the Year-caliber expectations it has earned from fans and pundits alike. Buffalo's Mix, 30, has been on a rampage since his first chance at championship gold, notching five consecutive wins with a whopping four finishes. Most recently, Mix went viral by knocking out ex-interim champion Raufeon Stots with a vicious knee ninety seconds into their Grand Prix finale blockbuster. The fighter to have best capitalized on Pettis' absence from the division, the Xtreme Couture-trained Mix will look to unify the 135-pound titles in spectacular fashion when he meets Sergio Pettis in front of a roaring Chicago crowd this November 17.
Bantamweight Main Card Bout
Raufeon Stots (#2, 19-2) vs. Danny Sabatello (#6, 14-3) – Bantamweight Main Card Bout
Nearly one year to the day since they last met each other in the cage, former interim bantamweight champion Raufeon Stots and No. 6-ranked Danny Sabatello will reignite their heated rivalry, this time in The Italian Gangster's backyard of Chicago. Last December at BELLATOR 289, the bantamweight phenoms engaged in a five-round back-and-forth brawl in the semi-finals of the Bantamweight World Grand Prix where Stots bested the highly decorated wrestler, granting him a ticket to the finals. Since then, Sabatello impressively submitted the heavy-hitting Marcos Breno at BELLATOR 294 last April in Honolulu, Hawaii and recently came up short against top 5-ranked Magomed Magomedov at BELLATOR x RIZIN this past July in Japan. At BELLATOR 301, both competitors will kick off the action for the main card in a clash to insert themselves back into the win column in this high-stakes bantamweight rematch which promises to deliver a dynamic matchup with a side of trash talk.
Lightweight Main Card Bout
AJ McKee (#6, 20-1) vs. Sidney Outlaw (#5, 17-5) – Lightweight Main Card Bout
McKee reached the pinnacle of the sport early in his career when he won the coveted $1,000,000 Featherweight World Grand Prix. Shortly after, McKee decided to take his business to lightweight in an attempt to capture another World Championship. After a medical issue forced him to withdraw from the Lightweight World Grand Prix, McKee now returns to the BELLATOR cage for the first time in 2023 in a marquee matchup at BELLATOR 301. In his most recent outing, McKee bested RIZIN lightweight champion Roberto De Souza at the monumental BELLATOR x RIZIN event on New Year's Eve and looks to continue his momentum when he takes on top five ranked Sidney Outlaw at the Wintrust Arena in Chicago, Ill.
Also originally scheduled to compete in the Lightweight World Grand Prix, No. 5-ranked Sidney Outlaw returns to action following his impressive victory over Russia's Islam Mamedov at the BELLATOR 298 event this past August. Having won twelve of his last fourteen bouts, the Kill Cliff FC standout now finds himself in a high-stakes lightweight tilt against his toughest test to date in McKee. With the Lightweight World Grand Prix rolling on, the Philadelphia native hopes to prove he is an undeniable contender with a victory over the former champion at BELLATOR 301.
Lightweight World Grand Prix Semifinal
Patricky Pitbull (#1, 25-11) vs. Alexander Shabliy (#2, 23-3) – Lightweight World Grand Prix Semifinal
Elsewhere on the talent stacked BELLATOR 301 main card, the Lightweight World Grand Prix for the highly coveted $1,000,000 grand prize continues with former BELLATOR Lightweight World Champion Patricky Pitbull taking on striking savant Alexander Shabliy in a semi-final matchup. Originally slated to face former featherweight world champion AJ McKee this past July at the historic BELLATOR x RIZIN card in Japan, Pitbull scored a third round TKO victory against last minute replacement, RIZIN lightweight champion Roberto De Souza, placing himself one step closer to challenge for his once held title. With 17 knockouts to his name, Pitbull holds the record for the most knockouts in BELLATOR and looks to add another feather in his cap against fellow lightweight standout in Shabliy.
Last March at BELLATOR 292, Alexander Shabliy drew surging lightweight contender Tofiq Musayev in the opening round of the Lightweight World Grand Prix, where he came out victorious after a devastating body kick resulting in a TKO in round three. At BELLATOR 301, Pitbull and Shabliy will battle to see who will fight for the BELLATOR Lightweight World Championship and the $1,000,000 grand prize against either reigning champion Usman Nurmagomedov or former lightweight world champion Brent Primus who are set to collide at the historic BELLATOR 300 event in San Diego, Calif. on October 7.
BELLATOR 301 Preliminary Card
BELLATOR MMA YouTube channel | SHOWTIME Sports YouTube channel | Pluto TV
5 PM ET / 4 PM CT / 2 PM PT
Heavyweight Bout: #5-Daniel James (15-7-1) vs.Ali Isaev (9-0-1)
Heavyweight Bout: #6-Tyrell Fortune (13-3) vs. #8-Marcelo Golm (10-4)
Featherweight Bout: #6-Timur Khizriev (13-0) vs. #7-Justin Gonzales (14-2)
Lightweight Bout: #10-Archie Colgan (8-0) vs. Pieter Buist (17-7)
Flyweight Bout: #1-Juliana Velasquez (12-2) vs. Paula Cristina (6-2)
Flyweight Bout: Keri Taylor Melendez (5-0) vs. Sabriye Sengul (3-3)
Bantamweight Bout: Matheus Mattos (13-2-1) vs. Richard Palencia (10-1)
Lightweight Bout: Mike Hamel (11-5) vs. Tim Wilde (16-4-1)
Flyweight Bout: #6-Denise Kielholtz (7-5) vs. #5-Sumiko Inaba (6-0)
160-Pound Contract Weight Bout: Islam Mamedov (22-3-1) vs. Killys Mota (15-3)
BELLATOR MMA is a leading global mixed martial arts organization featuring many of the best fighters in the world. Under the direction of veteran fight promoter Scott Coker, BELLATOR events take place in major cities worldwide and can be seen on television in over 160 countries to an available audience of over one billion people. In the United States, BELLATOR can be seen on SHOWTIME. BELLATOR is comprised of an executive team that includes top industry professionals in television production, live event orchestration, fighter development/relations, venue procurement, sponsorship creation/development, international licensing, marketing, advertising, publicity, and commission relations. BELLATOR is based in Hollywood, Calif. and owned by entertainment giant Paramount, home to the world's premier entertainment brands that connect with audiences through compelling content across television, motion picture, online and mobile platforms.
For more information, please visit:
OFFICIAL WEBSITE | FACEBOOK | INSTAGRAM | TWITTER | YOUTUBE
Showtime Networks Inc. (SNI), a wholly owned subsidiary of Paramount, owns and operates the premium service SHOWTIME®, which features critically acclaimed original series, provocative documentaries, box-office hit films, comedy and music specials and hard-hitting sports. SHOWTIME is available as a stand-alone streaming service across all major streaming devices and Showtime.com, as well as via cable, DBS, telco and streaming video providers. SNI also operates the premium services THE MOVIE CHANNEL™ and FLIX®, as well as on demand versions of all three brands. SNI markets and distributes sports and entertainment events for exhibition to subscribers on a pay-per-view basis through SHOWTIME PPV®. For more information, go to www.SHO.com.
McCormick Place Parking Lot A provides the most convenient on-site parking access for Wintrust Arena events.
A limited number of prepaid guaranteed parking spaces are available at the rate of $38 per day by advance order. Parking spaces are guaranteed even if lots fill to capacity.
In an effort to enhance public safety and the fan experience, Wintrust Arena utilizes metal detectors and enforces the following purse and bag policy limiting the size and style of bags allowed.
For the safety, security, and enjoyment of all guests, the following items are not allowed in the Wintrust Arena. Your cooperation will help expedite entering the facility.
In accordance with the City of Chicago and the Smoke-Free Illinois Act, smoking is prohibited inside Wintrust Arena and Arie Crown Theater. (this includes all smoking tobacco, marijuana, e-cigarettes and vaporizers). Violators of this policy may be ejected from the venue.