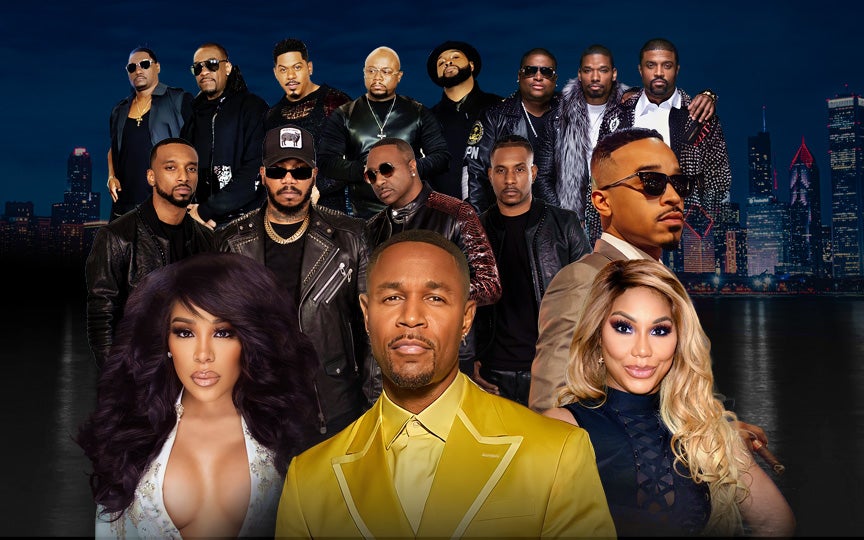 Global Events Production Presents:
Chicago R&B Music Experience
Tank, Tamar Braxton, K. Michelle, October London, 112, SILK and Next
Date

Oct

7

, 2023

Event Starts

8:00 PM

Doors Open

7:00 PM

Ticket Prices

$79+

On Sale

On Sale Now
Event Details
Global Events Production Presents: Chicago R&B Music Experience features Tank, Tamar Braxton, K. Michelle, October London, 112, SILK and Next.
Support acts subject to change without notice. All sales final. No refunds or exchanges.
Throughout Tank's 20+ year career, he has garnered over six #1 hits and has written and produced for names like Aaliyah, Chris Brown, Jamie Foxx, Alicia Keys, Beyonce, Kelly Rowland, and more. From his first hit single, "Maybe I Deserve," Tank has been able to touch listeners that have garnered him a cult following with releases like "Slowly," "Please Don't Go," and "I Can't Make You Love Me." In 2021, Tank celebrated the long-overdue streaming debut of his landmark first three solo albums, 2001's RIAA gold-certified, #1 debut, FORCE OF NATURE, 2002's ONE MAN, and 2007's chart-topping, GRAMMY® Award-nominated SEX, LOVE & PAIN.
K. Michelle only briefly touched Billboard's Hot R&B/Hip-Hop Songs chart in 2009 with "Fakin' It," but the single nonetheless signaled the arrival of a proficient soul-rooted R&B vocalist further distinguished by frank and witty songwriting. Later boosted by a role on the reality television series Love & Hip Hop: Atlanta, K. Michelle signed to Atlantic and recorded four albums for the label, hitting the Top Ten of the Billboard 200 with Rebellious Soul (2013), Anybody Wanna Buy a Heart? (2014), and More Issues Than Vogue (2016). She has since established herself outside the major-label system with the characteristically uncompromised All Monsters Are Human (2020).
October London is an old-soul singer and songwriter whose smooth, heartfelt vocals recall R&B giants of the past like Sam Cooke and especially Marvin Gaye.
London, a native of South Bend, Indiana, arrived in July 2016 with a featured role on "Revolution," the triumphant finale of Snoop Dogg's Coolaid. Later that month, London made his proper solo debut with "Black Man in America," a bluesy retro-soul single filled with anguish, through veteran producer Jazze Pha's Cadillac Music label. The song's parent release, an EP titled Color Blind: Love, arrived three months later and featured a duet with Faith Evans. "KDB (Kisses Down Below)," a contemporary club track recorded with BCANIC, was out by year's end. London's output through only the first half of 2017 included a second EP Color Blind: Hate & Happiness, an appearance on Snoop's Neva Left, and the understated full-length Not Your Average Album.
112 founded by group member Michael Keith and groomed by Sean "Puffy" Combs, Atlanta-based group 112, had a meteoric rise that solidified them as the hottest R&B group of their time. Their debut, album "112" (1996) went double Platinum and gave us hit records like "Cupid" and "Only You", which featured memorable features from the late, great Notorious B.I.G while also introducing us to then newcomer on the scene, and Bad Boy label mate, Mase. Proving that lightning can in fact be caught in the bottle, the group quickly followed up their debut with yet another double Platinum offering. "Room 112" dropped just two years later and featured records like "Come See Me" and "Anywhere"
SILK is best known for their hit singles, "Freak Me" which reached number-one on the US Billboard Hot 100, and "Happy Days" from their debut album, Lose Control. Another hit from Lose Control, "Girl U For Me", helped the album reach double platinum status. They later had success with singles such as "I Can Go Deep", "Hooked on You", "Don't Rush", "If You" (released February 23, 1999) "Meeting in My Bedroom", and "We're Calling You". In 1994, Silk won Album Of The Year for Lose Control at the Soul Train Music Awards.
Along with the likes of Dru Hill and Jagged Edge, Next was part of a late-'90s contemporary R&B class that combined a gospel background, suggestive lyrics, multi-part harmonies, and slick productions with stylistic cues taken from Jodeci and R. Kelly. From 1997 through 2000, the trio placed four singles within the Top 20 of the Billboard Hot 100, including the chart-topping "Too Close" and number seven hit "Wifey." After two albums for major label Arista, including the multi-platinum 1997 debut Rated Next, the group moved to Clive Davis' post-Arista venture J Records, where they released a third album prior to a rift in 2003. The original members released new material 15 years later, following an acrimonious split and some false restarts.
McCormick Place Parking Lot A provides the most convenient on-site parking access for Wintrust Arena events.
A limited number of prepaid guaranteed parking spaces are available at the rate of $38 per day by advance order. Parking spaces are guaranteed even if lots fill to capacity.
In an effort to enhance public safety and the fan experience, Wintrust Arena utilizes metal detectors and enforces the following purse and bag policy limiting the size and style of bags allowed.
For the safety, security, and enjoyment of all guests, the following items are not allowed in the Wintrust Arena. Your cooperation will help expedite entering the facility.
In accordance with the City of Chicago and the Smoke-Free Illinois Act, smoking is prohibited inside Wintrust Arena and Arie Crown Theater. (this includes all smoking tobacco, marijuana, e-cigarettes and vaporizers). Violators of this policy may be ejected from the venue.